Main content starts here, tab to start navigating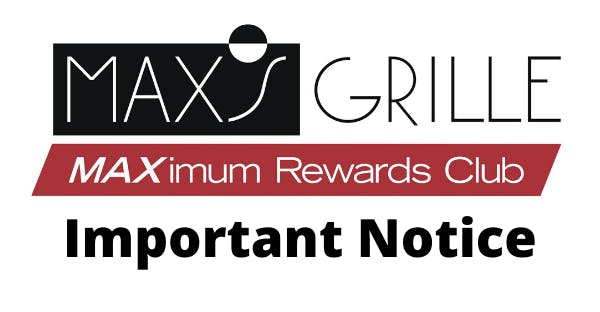 Dear MAXimum Rewards Guest,
The economical effects of COVID-19 has caused us to alter our business model. Our pledge to you is that we will: maintain our quality standards, maintain our portion sizes, maintain (and in some case, lower) our menu & beverage pricing. In addition to that, our summer marketing program will speak to value. With that being said, we have decided to discontinue the rewards program.
1. Points can NO LONGER be earned for purchases at Max's Grille.
2. All $30 certificates will be valid until August 30, 2020
3. Remaining point balances above 200 can be redeemed for a Max's Grille gift card. You must call 561-826-1790 or email aclark@rapoportsrg.com in order to process this redemption. We will redeem current point balances until August 30, 2020.
If you have any questions, please call 561-826-1790.
Please note, Rapoport's Rewards cards are not valid at Max's Grille. For more information on the Rapoport's Rewards program, click here.