Main content starts here, tab to start navigating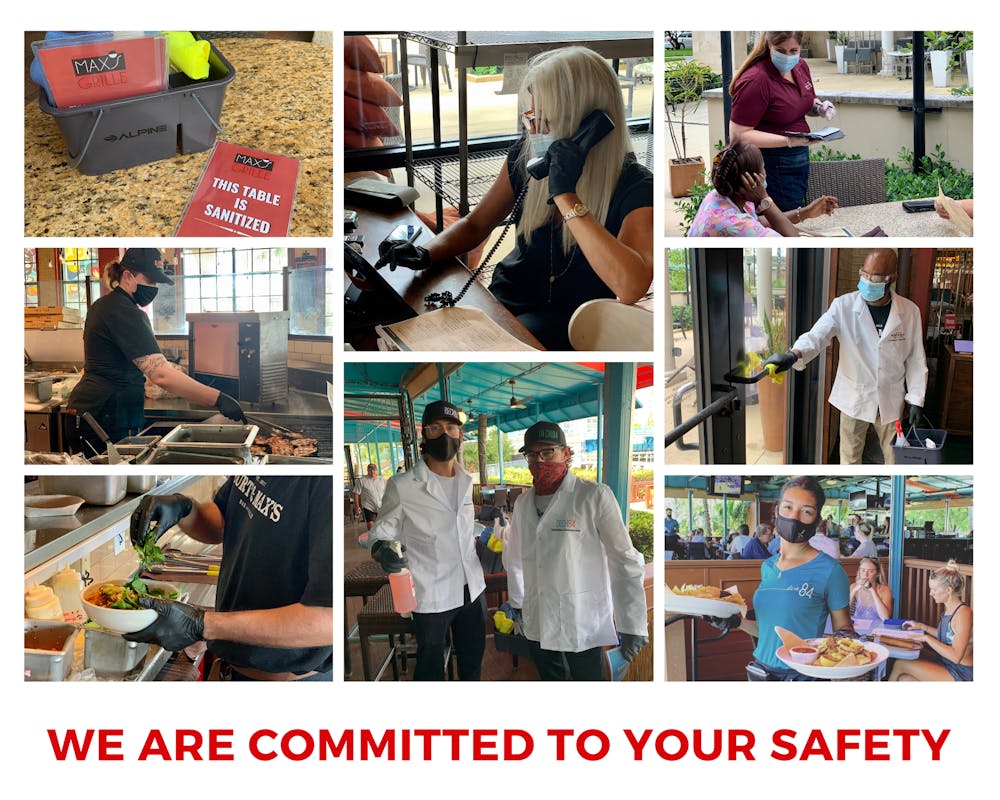 It's extremely important to us that our staff and guests feel safe and comfortable in our dining establishments.
We are constantly evaluating and enhancing our protocols as we navigate through these times. One thing that won't change? Our commitment to your safety!
Our ever-evolving list of protocols include:
Social Distancing - markers placed near hostess stand to help follow 6ft guidelines, and all tables spaced 6ft apart.
Team member wellness checks - taking temperature checks of all employees before they begin a shift and asking about symptoms. Testing available for our staff and arranged through HR, if necessary.
Masked & Gloved - All front of house and back of house staff must wear gloves, changing them regularly throughout their shifts, and masks.
Enforcing facial coverings for ALL guests and staff as soon as they arrive and when moving about the restaurant. Guests may remove coverings when seated.
Sanitation Administrator - their sole responsibility is to sanitize tables and chairs after each use, sanitize all touchable surfaces throughout the restaurant continuously, and sanitize restrooms.
Using QR code touchless menus or one-time-use disposable menus
Training & Education - Every employee has completed a COVID-19 Restaurant Sanitation & Safety workshop along with daily shift meetings discussing protocol enhancements, reminders & COVID updates from CDC, WHO, John Hopkins Hospital, Florida Restaurant & Lodging Association, etc.
We are ready to serve you safely!
With limited seating available, reservations are advisable.
Plenty of outdoor, covered or shaded seating spaces.
WHAT OUR CUSTOMERS ARE SAYING...
Randi F.
Excellent service and great food. Social distancing in place and all wait staff wore masks and gloves. VERY IMPRESSIVE AND SAFETY CAUTIONS IN PLACE
Ali J.
3 months after ...... we finally went out. Dinner outdoor was nice, tables were apart, paper menus thrown out after every use. Servers with mask and gloves. I felt safe at Max Grill. Only thing I was expecting napkins to be paper vs cloth. Anyway good experience.
Opentable Diner
Max's has done a great job of social distancing tables. Wait staff wear face masks. They have paper menus that get thrown away after you use. They are running great affordable specials too. The food is excellent.
Opentable Diner
This is my first post quarantine review but I guess it's relevant now. It was a nice experience sitting outside with. Very well spread out tables. We love how part of the roadway was cut off to expand room for dining. There were people constantly cleaning and sanitizing tables. We have been long time Max's customers for the food is consistently great and the alcohol pours were very large. Our server Eli was PHENOMENAL. He was extra attentive than most servers and made our dining experience impeccable. Thanks Max's and staff for always being a wonderful dining experience. We will see you soon
Opentable Diner
We had great service and good food eating at Max's on Saturday 5/16. It was the first weekend that things opened up after staying home for the virus. They had one man in a white coat, with a structured mask and a container of cleaning chemicals, designated to clean the tables and chairs after each customer. All the servers wore masks, and they kept the patio tables 6 feet apart. A guitar player was performing nearby early in the evening, and at 8:00 a band was setting up on the grass facing Max's. We felt safe and happy to be at Max's again!
Opentable Diner
Had a fantastic experience as always. Our service was excellent. We appreciated the dedicated associate in the white coat "the doctor" who was dedicated to sanitizing the tables only with the appropriate supplies to do so. The food was excellent as well as the bevs! Overall the experience was extremely positive and a comforting welcome back after the last few months. Great job! Private Note: You did a fantastic job with the comfort factor of eating out at restaurants again. I work in the hotel business and it was great to see ideas, down to the SOP for the pens (we asked). The team looked like a well-oiled machine.
Randi F.
Excellent service and the best menu. Included healthy choices and drinks were top quality. Social distancing with gloves and all tables outside were 6' apart. HEATHER was the best bartender and the service was exceptional. Exceptional services and best food in downtown Boca. Thank you for great service. We will be back!
Nataly B.
They were really clean and enforcing the mask mandate